In the latest of our video series, Isabell Koske, Deputy Director Economics at the OECD, talks to the SPE's Catherine Connolly about the economic impact of the coronavirus. 
Isabell discusses why the OECD expects the UK to be one of the worst hit economies in the OECD.  Isabell also considers the 'long shadow' the crisis will likely cast on long-term growth prospects and globalisation.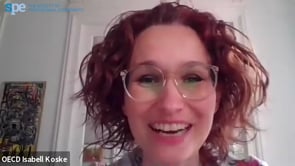 Sorry: IE8 cannot display our video content.