In the course of the interview, Dr Moyo discussed the worrying state of the world economy before the impact of the coronavirus, and then the profound and long-term consequences of this latest crisis. She explained her concerns about the lack of global co-operation and the push back to globalisation. Turning to her business background, companies have to consider how to evolve their supply chains in coming years while looking for opportunities for innovation not only to defend their core business but also exploring investments in adjacent areas. Lastly, she outlined how her recent book 'The Edge of Chaos' and its suggestions about the need for a fundamental retooling of democratic capitalism has to be updated in the light of the virus.
Dr Moyo is a well-known adviser on key areas including macro-economics, geopolitics and technology. She is a Board member of the 3M Corporation and Chevron. She previously worked at the World Bank and Goldman Sachs before becoming an author and public speaker. She has written four New York Times bestselling books, with the most recent, "Edge of Chaos: Why Democracy Is Failing to Deliver Economic Growth – and How to Fix It", published in 2018. Lastly, she holds a Doctorate in economics from Oxford University and a Master's degree from Harvard University.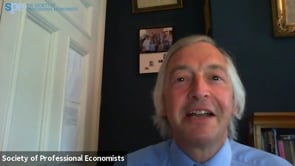 Sorry: IE8 cannot display our video content.