15 September 2015 1.00pm - 2.30pm
Using PMI surveys to monitor economic trends
Chris Williamson, Markit's Chief Economist, spoke to SBE members at a lunchtime Masterclass about the Purchasing Managers Indices (PMIs).
The PMIs are monthly indices published for an increasing number of countries containing various measures including activity, prices and employment. The indices cover around 80% of world GDP with around 25,000 companies reporting monthly, each country's index mimicking the structure of that particular economy.
Chris explained how the surveys are compiled and how they can be used to forecast/now-cast economic growth and other official macroeconomic series. The issue of divergence between the emerging and developed market PMIs was explored (DM performing better than EM recently).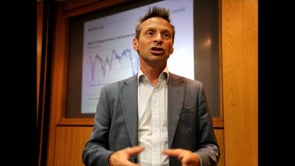 Sorry: IE8 cannot display our video content.
Chris also discussed how the PMIs have been important leading indicators for the recent collapse in Brazilian GDP, the stabilisation of the Russian economy and China's slowdown. A particularly useful leading indicator within the PMIs is the orders to inventory ratio – which is positively correlated with future output growth. And the PMIs have successfully captured trends in what is arguably the world's most important singular macroeconomic release – US non-farm payrolls – where the employment index of the US PMI has generally been pointing towards upward revisions.