Dr Karen Horn
In her interview with Ulrike Hotopp, Dr Horn covers a number of topics relevant for all of us following the COVID crisis: How should governments intervene in the economies in the future? Does a continuation of wage subsidies as just recently announced in Germany cement an economic structure which however ultimately has to change in order to provide employment in the long term future? Are the health systems in Europe up to the job or will they need further government support in the future? Have we all relied too much on a "just in time" economy? Will more centrally organised storage of medical equipment be required? Dr. Horn further discusses whether business needs support to make the new ways of working sustainable. In years to come, she argues, there will be a lot of new data following this crisis which will provide further insights into the role and effectiveness of government intervention and effective administration.
Dr Karen Horn is an author and journalist. She also teaches as a professor for the History of Economic Thought at the University of Erfurt, Germany, and is the co-founder and coordinator of the international academic Network for Constitutional Economics and Social Philosophy (NOUS). Dr Horn has published a number of books including "Ökonomische Hausapotheke" (Economic Home Remedy Kit, 2019), "Die Soziale Marktwirtschaft (The Social Market Economy, 2013) and "Roads to Wisdom, Conversations with Ten Nobel Laureates in Economics" (2009), which address a wide range of economic and social topics. Dr. Horn also publishes on a regular basis in magazines and newspapers such as the Neue Zürcher Zeitung (NZZ, Switzerland) and Frankfurter Allgemeine Zeitung (FAZ, Germany). Earlier in her career, she worked at FAZ for more than a decade as one of the leading economic policy editors. More about her work can be found on www.karenhorn.de.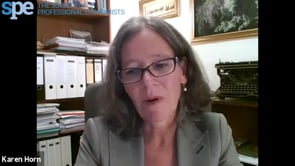 Sorry: IE8 cannot display our video content.