In the course of the interview, Andy Haldane discussed how industrial strategy might help the UK economy recover from its current deep recession. He explained his work as Chair of the UK Government's Industrial Strategy Council, which has been tasked with providing impartial and expert evaluation of the government's progress in delivering the aims of its Industrial Strategy, and how this task has evolved in the light of the corona virus. He discussed the factors behind the the long tail of companies, regions and sectors where productivity growth is modest at best, how the raw ingredients of improved productivity - skills, innovation, infrastructure, and investment - are best combined at regional and local level, and the Council's work in creating a series of success metrics or key performance indicators to assess improvements. Lastly, he set out various areas of economic research which the Council is currently working on and its plans for the future.

Andy Haldane has been named by Time Magazine as amongst the world's 100 most influential people. He is the chief economist of the Bank of England, its Executive Director of Monetary Analysis and Statistics, and a member of the Monetary Policy Committee. He has worked at the Bank since 1989, with secondments to the IMF. He is also Chair of the UK Government's Industrial Strategy Council. Among other positions, he is Honorary Professor at University of Nottingham, a Visiting Fellow at Nuffield College, Oxford, and a Fellow of the Academy of Social Sciences. He was one of the founders of the charity Pro Bono Economics, and has authored more than 70 articles and three books on a range of topics including inflation targeting, central bank independence, international financial crises, financial stability frameworks, payment systems and remuneration models.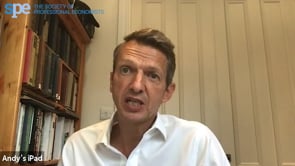 Sorry: IE8 cannot display our video content.