In the course of the interview, Brian Pearce gave his thoughts about the airline industry as an example of a major sector of the economy materially affected by the corona virus. He described its relatively healthy state before the pandemic, the immense disruption caused by the crisis, and set out various scenarios about how slowly it might recover in the coming 5 years. Not only vaccines and testing regimes but structural changes to the business travel market will be particularly important. He explained the background to the business model facing the sector, with a complicated mixture of free for all competition, new entrant disruption, a growing number of environmental factors, and strong government regulation of certain aspects. Using the airline industry as an example, Brian also examined the role of the professional economist in guiding senior management and the official regulator, plus the difficulties facing any economic forecaster in an inherently uncertain environment.
Brian is the chief economist for the International Air Transport Association (IATA) based in Geneva, where his role is to analyse the global economic and political landscape to help with IATA's advocacy work. In previous roles, he was director of the Centre for Sustainable Investment at the think-tank Forum for the Future, head of global economic research at the investment bank SBC Warburg, and Chief Economist at Ernst & Young's economic forecasting consultancy. In addition to his work for IATA, he is a Visiting Professor at the University of Cranfield, and has been an expert adviser to the UK's Department of Transport and the UK Airports Commission.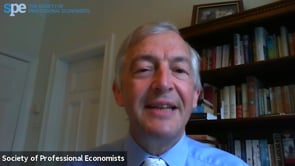 Sorry: IE8 cannot display our video content.