The conversation explores a wide range of issues starting from the role of evidence in decision making and the role of economics in informing decision makers. Ece discusses the question of what contributes to well-being and how can we take account of the non-monetised and non-monetisable aspects of this. The COVID19 crisis has highlighted not only the need for evidence in decision making, but also other basic aspects about human well-being such as the need for green spaces in towns and cities. Ece discusses the Climate Change impacts of the COVID 19 crisis and risks and opportunities this holds for more climate friendly policies, which in the medium term might just be as essential for human health as the lock down measures are in the current pandemic.
Ece Özdemiroğlu FRSA, is the Founding Director of eftec. She is a Member of the Adaptation Committee of the Committee on Climate Change and the convener of the British Standards Institute's Assessing and Valuing Natural Capital expert group. Ece is an environmental economist specialising in valuing natural capital assets and using this evidence in accounting and appraisal. Her work also includes cultural heritage and value of information.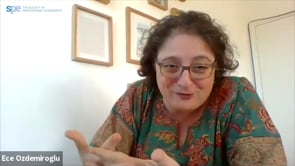 Sorry: IE8 cannot display our video content.