In the course of the interview, Fabio Natalucci explained the framework which the IMF uses to examine financial markets, in particular to identify vulnerabilities, and then described the state of the system prior to the crisis and how it has been affected by the economic downturn. He set out the particular areas of concern today, especially in relation to the corporate sector, emerging markets and dollar funding. Looking ahead, while recognising the major policy stimulus of recent months, he explained the IMF's thinking about future policy options, especially in relation to oversight of the non-bank financial sector. The disconnect between the state of the real economy and what is priced into financial markets, especially share prices, is a particular concern. Lastly, Fabio set out the arguments in favour of international co-operation in the field of regulation of the financial services.

Fabio M Natalucci is a Deputy Director of the Monetary and Capital Markets Department with responsibility for the IMF's global financial markets monitoring and systemic risk assessment functions. He is particularly involved with the Global Financial Stability Report that gives the IMF's assessment of global financial stability risks. Prior to joining the IMF, Fabio was a Senior Associate Director in the Division of Monetary Affairs at the Federal Reserve Board, where he conducted research and current analysis on the relationship between monetary policy, financial regulatory policy, and financial stability.  Between October 2016 and June 2017, Mr Natalucci was Deputy Assistant Secretary for International Financial Stability and Regulation at the US Department of Treasury.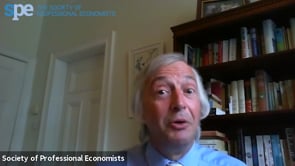 Sorry: IE8 cannot display our video content.