In the course of the discussion, Sonja talked about the threats from the very high levels of public and private sector debt around the world, especially in the emerging markets and China, the problems facing both the G20 and China in terms of debt relief talks, the balance of risks and opportunities facing emerging market economies from the corona virus, and how the economic crisis might interact with the debate about the massive investment required to deal with longer-term environmental problems. She also covered the growth of the sustainable finance movement, including the need to create better benchmarks for investors, and lastly the work of the IIF and its research on global financial markets and global debt which is made available to policy makers, investors and economists.

Sonja Gibbs is Managing Director and Head of Sustainable Finance at the Institute for International Finance, the Washington based global association of about 450 major financial institutions. Her areas of research cover global debt, financial stability risks and the development of capital markets in emerging economies.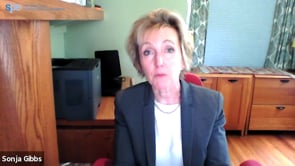 Sorry: IE8 cannot display our video content.