During the interview, Spencer Dale discussed the role of the economics team at BP and how it interacts with the commercial side of the business, his views on the evolution of the oil market into 2021, and the key drivers, especially new technology, affecting the world's use of energy in the next few decades. He also considered the interaction of the corona virus with the whole debate about the longer-term threat from climate change, and the pressures this places on firms such as BP to diversify. This included the role of carbon taxes, the risk of stranded assets, the approach by many investors to holdings in fossil fuel companies, and BP's commitment to net-zero emissions in oil and gas production by 2050.
Spencer Dale has been the group chief economist at the energy company BP since 2014. After university he joined the Bank of England, and was appointed to the position of Chief Economist in 2008. He was a member of the Bank of England's Monetary Policy Committee from 2008-14. At BP he manages the global economics team and provides economic input into the firm's commercial decisions. BP's economics team produces in particular the annual Statistical Review of World Energy and Energy Outlook.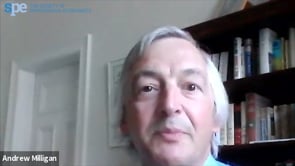 Sorry: IE8 cannot display our video content.