On 12 May 2020 Kevin Daly interviewed Lord Alistair Darling, discussing the COVID crisis, the government's response and the lessons from the Global Financial Crisis that are relevant today.
Lord Darling, who served as Chancellor of the Exchequer in the Labour Government from 2007-2010, was as a Member of Parliament from 1987 until 2015, and has been a member of the House of Lords in the period since then. Lord Darling was one of only three people to have served in the Cabinet continuously from Labour's victory at the 1997 general election until the 2010 general election, but he is best known for his role in managing the UK economy through the Global Financial Crisis and its immediate aftermath.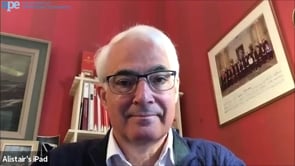 Sorry: IE8 cannot display our video content.